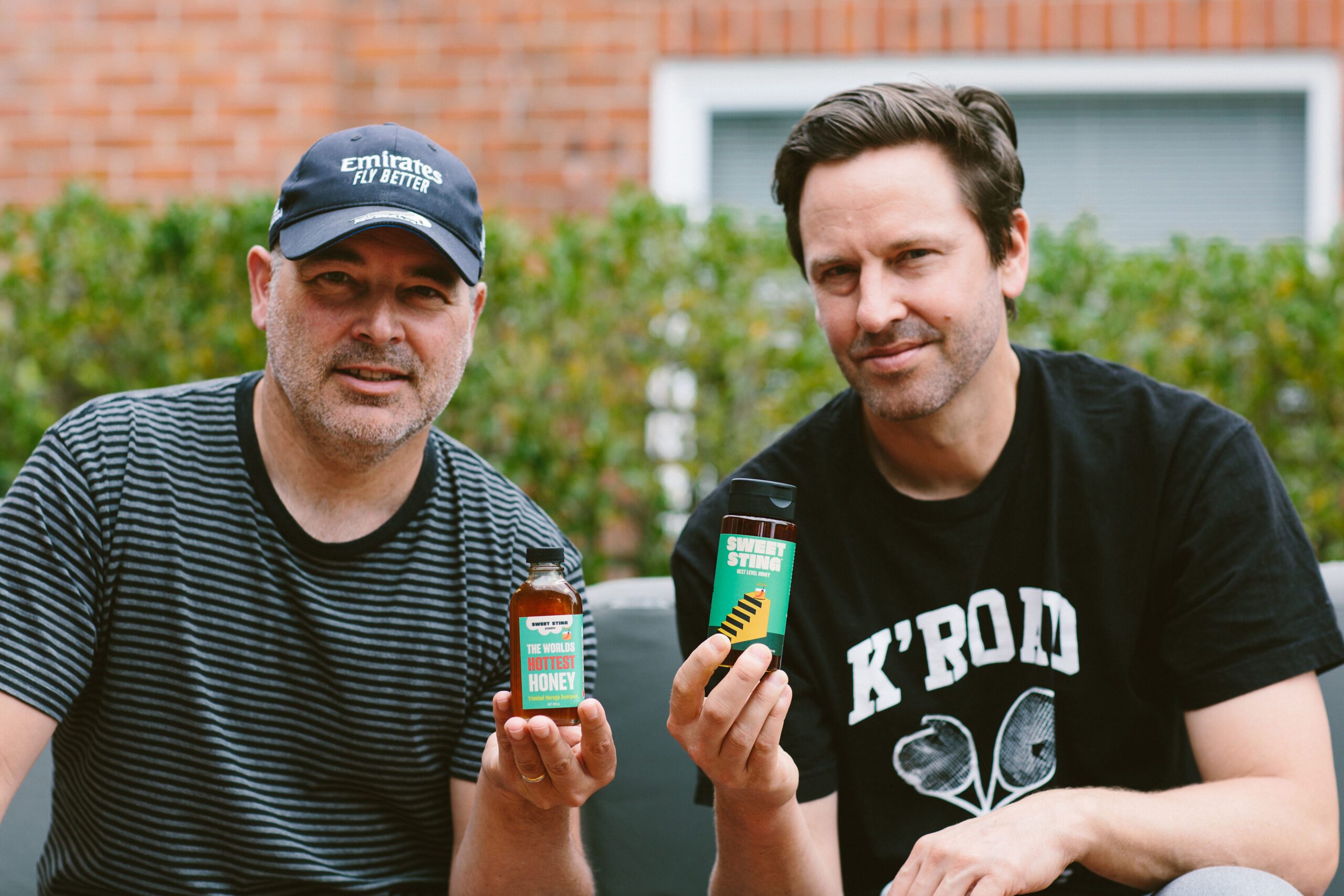 As part of our Summer Taste Adventure campaign, we're partnering with locally loved brands, producers and suppliers across NZ to bring our foodies a menu the best of Aotearoa.
For all things sweet & heat, we've developed two delicious recipes using Sweet Sting Hot Honey, an Auckland-based 'sweet & spicy sauce company' founded by Dan Bycroft & Chris Bulman. Ahead of the recipe collab, we recently had Chris into the My Food Bag Development Kitchen to chat about their honeys & sauces, their history, and to of course taste test the delicious ways we're incorporating their Hot Honey into our Summer Taste Adventure recipes!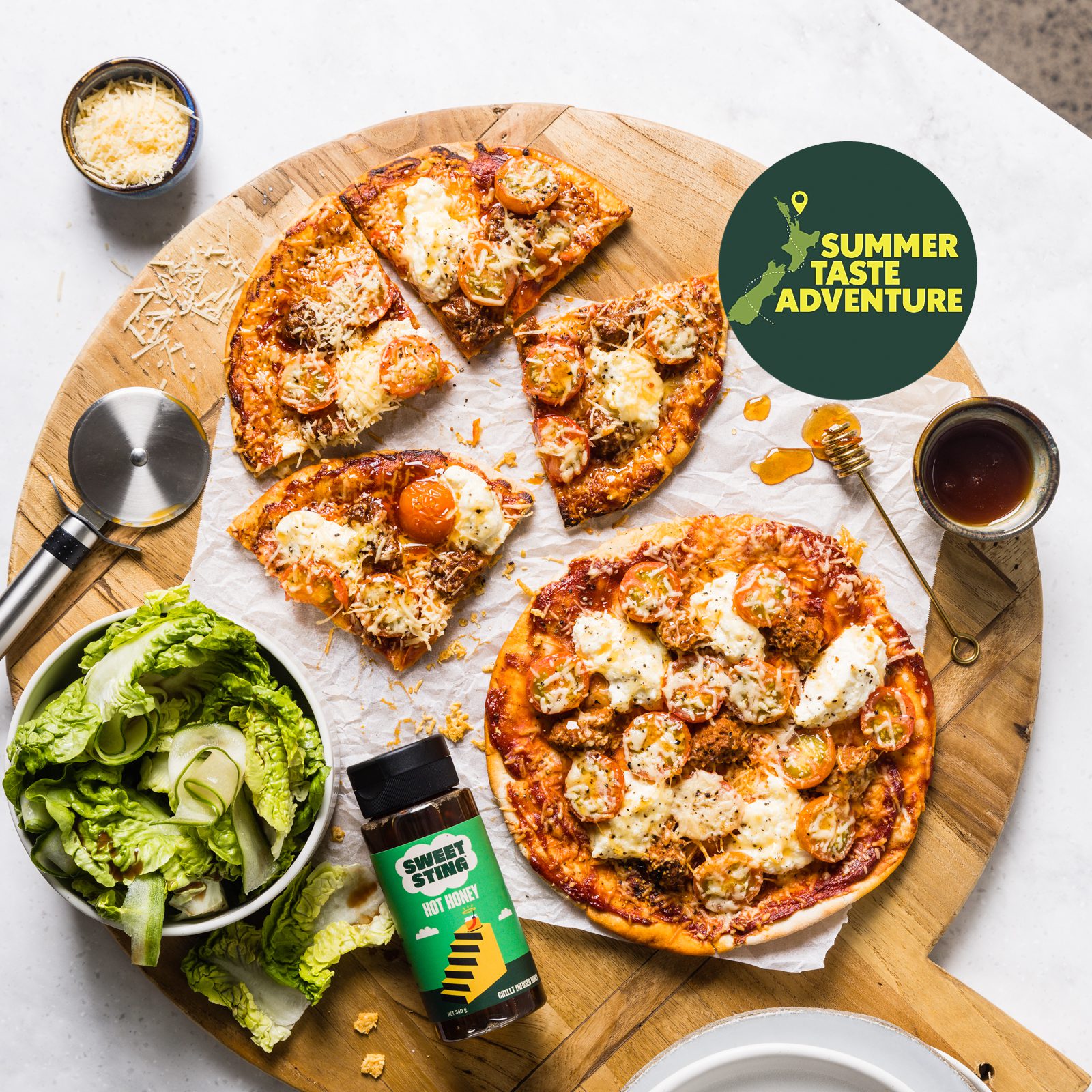 How did the initial idea come about?
We wanted to look for a way to hero NZ honey, and bring something to the NZ market that wasn't already here. At the time there weren't any hot honeys on the market, but we had seen this was popular overseas, especially in the US. Dan and I both love chilli and honey so it felt like a nice synergy, and it really just led from there!
How long did it take you to perfect your Hot Honey?
7 or so months, with a lot of experimenting! We tried loads of different honeys and different chillis. I think we tried 22 different chilli varieties – some were way too hot, and we almost lost our taste while trying them! In the end we created one version for the NZ palate – our core product 'Hot Honey', and one for the slightly braver folk, which is more of a hot sauce in a honey – which is aptly called 'The World's Hottest Honey.'
You make more than just Hot Honey – tell us about them, and do you have a favourite?
We do! We were on a mission to hero NZ honey and locally grown chillies, to make every day sauces that replace the refined sugar with honey. We've now developed a range of 7 sauces, using the Sweet Sting Hot Honey as the base of all of them. My favourites are the Smashed Tomato, an 'everything sauce' that's not packed full of refined sugar. And Down n Dirty, which is a 'next level mustard'.
What are your fave ways to enjoy the Hot Honey?
On pizza
Drizzled over roasted vegetables
On baked or BBQ'd salmon – when it's nearly finished cooking, drizzle it with Hot Honey & pop it back in the oven/BBQ for a minute to caramelise it
Stirred through sauces – it's a great alternative to add a bit of sweetness to things like satay sauces or tomato sauces, without adding refined sugar
What about any weird combos?
My weirdest, but probably the best, is toast, peanut butter and drizzled with the Hot Honey. And used in cocktails in place of sugar is also really good too.
Dan has some good ones; his weird Sweet Sting obsession is Hot Honey in his coffee – he stirs it through a long black pretty much every day! He's also on a personal mission to promote it as a dumpling sauce, mixed with soy sauce, chilli oil and garlic… a little weird and certainly non-traditional, but he loves the unique flavour.
What are you most proud of?
That we created a new food idea from natural, local ingredients that people want to try, buy, and get creative with. We even have 'Sweet Sting' "super fans" which make us very proud!
You can find Sweet Sting in a selection of stores and supermarkets across NZ, and these delicious collab recipes are available to order in our My Choice Bag or Plant Power Bag, for a limited time, as part of our Summer Taste Adventure recipe collaboration campaign.