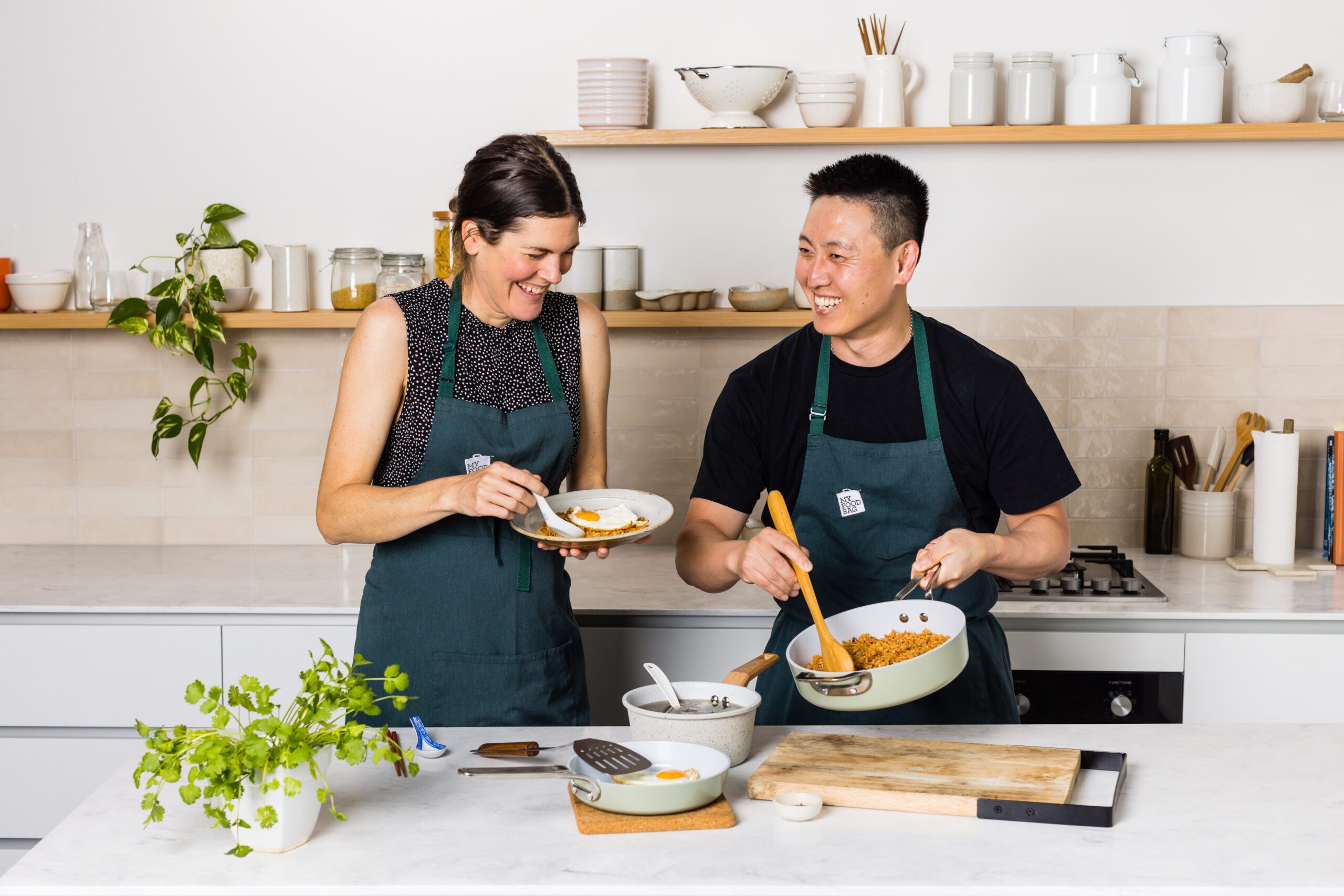 We're excited to bring our Foodies our 'Taste of Korea' recipe series!
With Korean food trending and becoming ever-popular, and a no shortage of delicious Korean and fusion restaurants opening here in NZ, we want to celebrate the exciting, unique flavours of Korea, and maybe even introduce something new to our Foodies.
Our very own Korean chef Danny Cho has developed these recipes to incorporate traditional, authentic flavours and techniques, with a My Food Bag twist making them easy and achievable to create at home.
One way Danny is making these recipes easier to cook at home is by sharing a little secret – kimchi doesn't have to be fermented! There are more than 100 kinds of kimchi, Danny says, and one of the most popular Korean side dishes we use at My Food Bag is a Quick Cucumber Kimchi. We're excited to try a version of this in his Korean Dak-Galbi (Spicy Chicken Stir-Fry) with Cheese & Quick Lettuce Kimchi.
With 4 recipes created by Danny in the series, we're also excited to bring you one guest chef recipe by the buzzing and popular Korean restaurant, Pocha, located in Auckland's CBD. They're sharing their recipe for their Garlic Butter Fried Chicken – we couldn't have a Korean recipe series without featuring Korean Fried Chicken!
Though they're all equally delicious, Danny's personal favourite recipe is his Korean Prawn Pajeon (Spring Onion Pancake). Pajeon is a popular Korean savoury pancake made with spring onions and seafood. Pa meaning spring onion, and jeon meaning pan-fried battered food. In Korea, pajeon is often paired with makgeolli (Korean milky rice wine). Danny also say that when it rains outside, Koreans often just say to stay home and enjoy some jeon (savoury pancakes).
When it comes to 'Korean table manners,' Danny tells us there is definitely some dining etiquette you need to know!
Firstly and most importantly, out of respect, the oldest eats first.
Sharing is caring – it's normal among Koreans to share all the food in front of them with everyone they are eating with. Don't be shy to offer others a taste of your meal, and do accept it if they offer you a taste of theirs.
Phrases you say before and after a meal – say that you will eat well, and thank you.
We asked Danny what he loves most about Korean cuisine; he said, "there's something really special in eating Korean food the way it was meant to be: shared with friends and family." And we are excited about doing just that with these recipes.
You can order these recipes with My Food Bag for delivery throughout May. Check them out here!